Consigas Awarded the Palo Alto Networks Excellence in Training Award for 2022
Palo Alto Training Award Palo Alto Networks Excellence in Training Award 2022 for Consigas
DUBLIN, February 2, 2023 (Newswire.com)
–
Consigas, a cyber…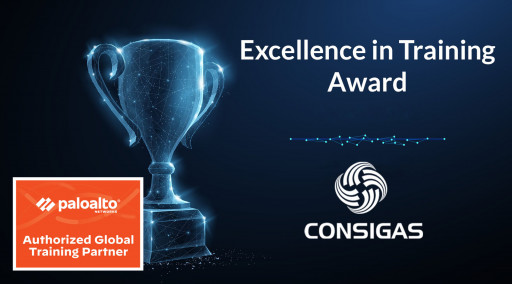 DUBLIN, February 2, 2023 (Newswire.com) - Consigas, a cybersecurity consultancy company, announced today it received the Palo Alto Networks "Excellence in Training" award for 2022.
Announced during the Palo Alto Networks quarterly business review, annual awards are presented to an elite group of Authorized Training Partners (ATPs) that, over the past 12 months, have excelled in the following areas:
Customer Satisfaction: Evaluation scores rank Consigas as one of the top-rated training partners
Enablement: Consigas trained the most Palo Alto Networks customers and partners worldwide
Engagement: Nominated by the Palo Alto Networks team
"Receiving the Excellence in Training award for the third time means a lot to us, and I want to recognise that this is especially an achievement of our instructors. As security consultants, they bring real-world experience into the classroom, and customers tell us this makes all the difference to the training," said Lars Meyer, Technical Director / Co-Founder, Consigas. "We have innovated training by virtualising the classroom and providing instructor-led online training that makes learning more effective and flexible. Receiving the Palo Alto Networks Excellence in Training award is also a recognition of our online teaching method."
"We are proud to recognize Consigas on their Excellence in Training Award for making a difference in enabling our mutual customers to protect their digital way of life," said Ernie Campbell, Sr. Manager, Global Training Delivery at Palo Alto Networks. "With its ongoing commitment to Palo Alto Networks as a Global Authorized Training Partner, Consigas has proven itself a trusted advisor for customers seeking to successfully navigate the rapidly changing and complex global security landscape."
About Consigas
Consigas is a Cyber Security Solution Provider specialising in Palo Alto Networks. With over 12 years of experience working with Palo Alto Networks, Consigas has gained a unique field experience. We not only provide security, but we enable our customers to defend themselves from a rapidly changing threat landscape through consultancy and training.
For more information visit: www.consigas.com
Contact Information:
Lydia Meyer
(650) 407-1995
Original Source:
Consigas Awarded the Palo Alto Networks Excellence in Training Award for 2022