Pray.com to Host National Day of Prayer Livestream May 4
Pray.Com Founders Join Prominent Faith Leaders in Lifting Prayers for the Nation in Annual Observance
National Day of Prayer logo Pray.com Nation…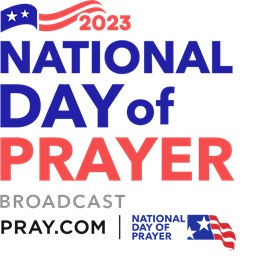 Pray.Com Founders Join Prominent Faith Leaders in Lifting Prayers for the Nation in Annual Observance
LOS ANGELES, May 2, 2023 (Newswire.com) - Pray.com, the No. 1 app for prayer and faith-based audio and video streaming content, will broadcast the annual National Day of Prayer livestream on Thursday, May 4, at 8 p.m. EDT. Founders Steve Gatena and Matthew Potter will add their prayers for the nation to those of other participants, centered around this year's theme, "Pray Fervently in Righteousness and Avail Much," based on Scripture found in James 5:16b: "the effective fervent prayer of a righteous man avails much (NKJV)."
The event will be co-hosted by Rev. Samuel Rodriguez, President of the National Hispanic Christian Leadership Conference and Pastor of New Season Christian Worship Center in Sacramento, Calif., and National Day of Prayer Task Force President Kathy Branzell. Other participants in the line-up of both prayer and worship music include:
Gold Medal Olympian Madeline Manning Mims
Senate Chaplain Barry Black
Congressman Tony Hall
Gateway Church Pastor Robert Morris
Evangelist Nick Hall
Award-winning musician Lecrae
And many more
"We are honored to partner with so many faithful Americans. It's a joy to lead millions gathered across the country to lift our nation in prayer," said Pray.com founder and CEO Steve Gatena. "This is such an important day, recognized by Presidential Proclamation, to come together as a people who pray, while recognizing our help comes from God."
Specific areas that will be prayed for include government, military, education, families, churches, businesses and racial unity. "We each have a role to play in bringing our divided country back together as 'one nation under God,' and National Day of Prayer is a great opportunity to unite in prayer for one another and our leadership," added Matthew Potter, Pray.com cofounder.
This is Pray.com's fourth year being a part of the National Day of Prayer, first hosting its own livestream events and now partnering with the official National Day of Prayer Task Force. The event will be broadcast from Museum of the Bible in Washington, D.C., and in addition to being livestreamed on Pray.com, will be carried on multiple other radio and television networks.
About Pray.com
Founded in 2016 with a mission to grow faith and cultivate community, Pray.com is the world's No. 1 app for daily prayer and Bible-based audio content. Reaching more than 10 million people worldwide through its mobile app and website, it is the easiest way to incorporate prayer into your daily life. Pray.com founders are Steve Gatena, Mike Lynn, Ryan Beck and Matthew Potter. See https://alarryross.com/pray-com for more information.
About the National Day of Prayer
The National Day of Prayer tradition predates the founding of the United States of America, evidenced by the Continental Congress' proclamation in 1775 setting aside a day of prayer. In 1952, Congress established an annual day of prayer, designated in 1988 as the first Thursday in May. For more information, visit www.nationaldayofprayer.org.
Contact Information:
Melany Ethridge
[email protected]
(214) 912-8934
Original Source:
Pray.com to Host National Day of Prayer Livestream May 4