AdcommTV, Questex and No Vacancy News Combatting Human Trafficking with 1st Annual Darkness2Hope Golf Classic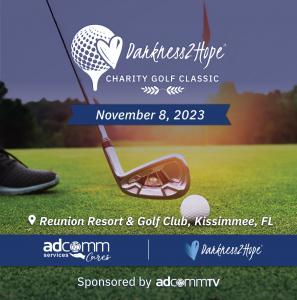 The event is raising awareness of human trafficking in the hospitality industry
ORLANDO, FLORIDA, USA, September 12, 2023/EINPresswire.com/ — AdcommTV (www.adcommtv.com) is partnering with Questex, LLC, a leading media and events company and No Vacancy News and Podcasts to raise awareness about and to combat human trafficking by organizing the inaugural Darkness2Hope Golf Classic to be held November 8, 2023.
Darkness2Hope (www.darkness2hope.org) collaborates with anti-human trafficking organizations across the United States, bridging gaps between national, state, and local entities. Through resources, consultation, community education, and technological development, Darkness2Hope contributes to the detection and prevention of human trafficking.
The 1st Annual Darkness2Hope Golf Classic takes place at the prestigious Reunion Golf and Resort in Kissimmee, Florida on November 8, 2023. Just minutes away from Disney World and in the heart of one of the largest hospitality markets in the US, this event aims to raise proceeds for the charity.
Glenn Haussman, the renowned host of leading hospitality industry podcasts such as No Vacancy, No Vacancy News Today and Friday Night Audit is hosting the event.
The Golf Tournament also features a silent fundraising auction. For information on participating in the tournament or becoming a sponsor visit https://d2hgolf.adcommtv.com or send an email to [email protected]. Those unable to attend can still contribute by using the provided link to make a donation.
"This growing epidemic is a pressing issue in our country and around the world, yet it often lacks the attention it deserves. In the midst of global suffering, we believe this event can significantly enhance awareness and unite our industry to support an organization dedicated to protecting children, women, the elderly, and abuse victims," said the CEO of AdcommTV, Jason Cohen.
AdcommTV envisions this as the first of numerous events dedicated to combating this issue, while Darkness2Hope provides a haven for victims of trafficking to come forward and find assistance.
About Adcomm TV, Inc.: AdcommTV, Inc. is a nationwide provider of TV and high-speed internet services, along with TVs, appliances, PTACs, digital signage, and more for the lodging and institutional sectors. With headquarters in Navarre, FL, and sales and tech centers across the country, AdcommTV currently serves over 1,500 properties comprising over 100,000 rooms. For more information on AdcommTV, contact [email protected] or click here to request more information."
Olga CiFuentes
AdcommTV, Inc.
+1 954-281-0694
[email protected]
Visit us on social media:
Facebook
Twitter
LinkedIn
Instagram


Article originally published on www.einpresswire.com as AdcommTV, Questex and No Vacancy News Combatting Human Trafficking with 1st Annual Darkness2Hope Golf Classic