Pearl Certification Becomes a Public Benefit Corporation
Affirms commitment to homeowners and the planet
Pearl Certification Becomes a Public Benefit Corporation Pearl Certification is advancing the hig…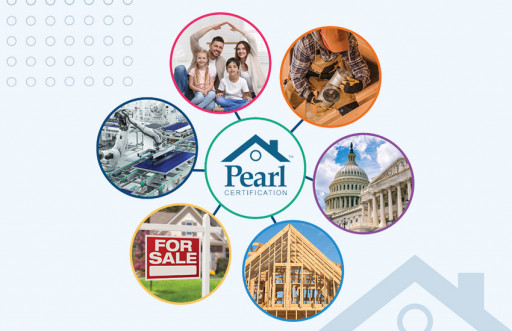 Affirms commitment to homeowners and the planet
CHARLOTTESVILLE, Va., May 18, 2023 (Newswire.com) - Pearl Certification, the gold standard in high-performing home certifications, is incorporating as a Public Benefit Corporation and pursuing Certification by the nonprofit B-Lab as a B Corp, as a way to further support the company's mission to improve U.S. homes and reduce the nation's carbon footprint.
The vast majority of homes in the U.S. waste energy and cost too much to maintain. Millions of homeowners also live with serious health and comfort problems that are related to their homes' poor energy performance. Most homes are not built to withstand increasingly serious climate-related natural disasters.
Pearl Certification was created to solve these problems: to help homeowners improve their homes' energy and water efficiency, address health risks and comfort problems, add renewables and storage, and enhance resilience to natural disasters. Pearl provides education, assistance, and tools to homeowners; certifies the homes so that they can be accurately valued at the time of sale; and supports networks of vetted, highly qualified professionals who provide home improvement services.
Pearl's work has the potential to drive deep reductions in energy consumption and U.S. carbon pollution.
To become a Public Benefit Corporation (B Corp), a firm must document its commitment to a specific public benefit as the purpose of the corporation and report regularly on its progress. This structural change is Pearl's first step toward certification as a B Corp. To achieve the certification, Pearl must demonstrate a commitment to its public benefit, commit to a high level of transparency regarding its activities and accountability to all stakeholders, not just owners.
"Pearl was founded to further the public interest by working to improve American homes and lives and to create a more sustainable future," said Cynthia Adams, Pearl Certification CEO and co-founder. "B Corp Certification demonstrates our commitment to the public interest to clients, partners, and stakeholders."
"Both Cynthia and I have had careers leading nonprofit organizations," said Robin LeBaron, co-founder and President. "The move to become a public benefit corporation is consistent with Pearl's mission, our company culture, and our backgrounds. It feels great to take this step and affirm our commitment to working for the best interests of our partners and customers."
Pearl's certifications are one of a very few energy-efficiency labels that are actively used by the real estate industry. They have been proven in third-party-authored appraisal studies to consistently increase home value.
Pearl's board and leading shareholders strongly support Pearl's decision to change its structure to a Public Benefit Corporation and seek B Corp Certification.
"We believe that Pearl has an important role to play in addressing some of the most important social issues of our time, starting with carbon emissions, but also including housing quality and accessibility," said Randy Castleman, Managing Partner of Carbon Drawdown Collective and Pearl board member.
"Clean Energy Ventures will only invest in a firm if analysis shows that they have the potential to reduce cumulative CO2 equivalent emissions by 2.5 gigatons by 2050," said David Miller, Managing Director of Clean Energy Ventures and Pearl Board member. "We have invested in Pearl because we see its potential to exceed that target. A public interest corporate status is a perfect fit for what Pearl does and is seeking to accomplish."
About Pearl Certification: Pearl Certification is the gold standard in high-performing home certifications, bringing visibility to the valuable features that make them healthy, safe, comfortable, and energy- and water-efficient. Pearl is the only national sponsor of the U.S. Department of Energy's Home Performance with ENERGY STAR® program and is a partner with the National Association of REALTORS® Green Resource Council. Pearl Certified homes sell on average for 5.5% more than comparable homes, according to independent appraiser studies. For more information, visit www.pearlcertification.com.
###
Contact Information:
Lindsay Bachman
Director of Network Engagement and Communications
[email protected]
412.443.2996
Original Source:
Pearl Certification Becomes a Public Benefit Corporation